The Kempty Falls are situated on the hilly tracks of Uttarakhand, India, 13 km from Mussoorie on the Chakrata Road. It is nearly 1364 meters above sea level, at 78°-02'East longitude and 30° -29'North latitude.
The Kempty Falls, and the area around is surrounded by high mountain ranges at an altitude of 4500 feet.
Kempty Falls were developed as a tourist destination by a British officer John Mekinan, around 1835. The name Kempty is probably derived from the word 'camp-tea', A stream of water running throughout the year starting from the southwest of village Banglow ki kandi moves northwest and falls from 4,500 ft. Splitting into five other cascades, the water falls a further 40 ft.
George Everest's House Park
Sir George Everest's House Park Estate is where one can find the remains of the building and laboratory of Sir George Everest, the Surveyor-General of India from 1830 to 1843. It is after George Everest that the world's highest peak Mt. Everest is named. It is 6 km from Gandhi Chowk / Library Bazaar and is accessible by vehicle, although the road is very rough beyond Haathi Paon. The place provides a view of Doon Valley on one side and a panoramic view of the Aglar River valley and the snow peaks of the Himalayan ranges on the other. It is a scenic walk from Library Bazaar, and a picnic spot.
Municipal Garden Is a picnic spot having a garden and an artificial mini lake with paddle boating facility. It is located at a distance of 4 km by rickshaw cycles, pony or by a car and 2 km via Waverly Convent School road on foot.
The Mall is famous for its picturesque viewpoints providing amazing views of the Doon valley. Benches and lampposts are fixed at every viewpoint at the Mall. Colonial-style houses kept reminding of British architecture. Visitors likes to buy some memorable things at the series of shops at both sides of the Mall Road.
GunHill Second highest point of Mussoorie, at an altitude of 2024m located at 30.4953°N 78.0745°E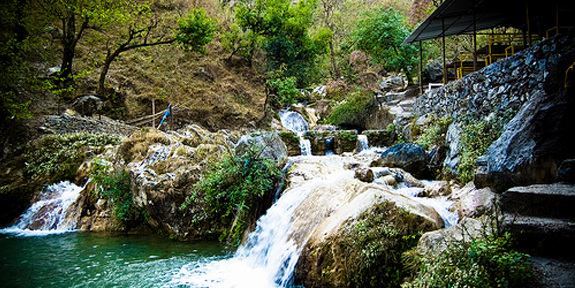 Jharipani Fall Located at 8.5 km from Mussoorie on Mussoorie-Jharipani road. One can go by local bus or car up to Jharipani from where the fall is about 1.5 km on foot.
Camel's Back Point / Camel's Back Road
The road borrows its name from a large rock here that looks like a camel's back. One can see the rock from the 'Mussoorie Public School'. The road starts from Kurli Bazaar and goes up to the Library Bazaar. Thick deodar trees girdle this 3 km long stretch. The atmosphere is veryserene and ideal for pony-riding and watching the sun playing 'hide and seek' in the Himalayas.